Welcome to Arcadia Barber Shop, the best barber shop in Uptown, Phoenix, AZ! We're honored to be your go-to destination for all your men's haircut needs. At Arcadia Barber Shop, we pride ourselves on delivering exceptional service and creating a welcoming environment for all our valued customers. So whether you need a classic haircut, a fresh shave, or a stylish beard trim, we've got you covered.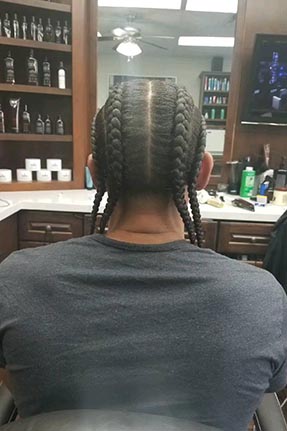 What Separates Arcadia Barber Shop from the Rest?
Located in the heart of Uptown, Phoenix, AZ, our barber shop is easily accessible and conveniently located for all our clients. We understand that your time is valuable, so we strive to provide you with a seamless and comfortable experience from the moment you step through our doors. Step into our world and be greeted by our friendly and professional staff who are trained to accommodate your specific grooming needs.
Our highly skilled barbers are experts in their craft, continuously staying up-to-date with the latest trends and techniques. Our commitment to excellence ensures that you will leave our shop looking and feeling your absolute best. We take pride in our attention to detail and precision, ensuring that each haircut meets your expectations and reflects your unique style. Whether you prefer a classic, professional look or are willing to experiment with a modern and edgy style, we have the expertise to bring your vision to life.
We also take pride in our commitment to cleanliness and hygiene. Our tools and equipment are meticulously sanitized and sterilized after each use, ensuring a safe and comfortable experience for every client. Your well-being is our top priority, and we prioritize maintaining a clean and sanitary environment in every corner of our shop.
Besides our exceptional haircuts and grooming services, Arcadia Barber Shop offers a range of high-quality grooming products to help you maintain your look at home. From premium haircare products to beard oils and aftershaves, we've got everything you need to keep your appearance at its best between visits. Our knowledgeable staff is always available to provide personalized recommendations based on your unique needs, ensuring you get the right products to complement your style.
Beyond providing top-notch grooming services, Arcadia Barber Shop believes in giving back to the community that has supported us throughout the years. We actively participate in local charity events and initiatives, using our skills and resources to make a positive impact in our neighborhood. We firmly believe that giving back is an essential part of our role as a community business, and we strive to make a difference in the lives of those around us.
Choosing Arcadia Barber Shop in Uptown, Phoenix, AZ!
We thank you for choosing Arcadia Barber Shop as your trusted destination in Uptown, Phoenix, AZ, and we look forward to welcoming you into our shop and providing you with an unrivaled grooming experience. No appointment is necessary: just walk in and let our talented barbers work their magic tofay!