At Arcadia Barber Shop, we take pride in being the go-to destination for men's haircuts in Glendale, AZ. With our experienced barbers, exceptional customer service, and comfortable ambiance, we provide an unmatched grooming experience that will leave you looking and feeling your best. Whether you're a Glendale local or a visitor from a neighboring city, here's why you should choose Arcadia Barber Shop for all your grooming needs.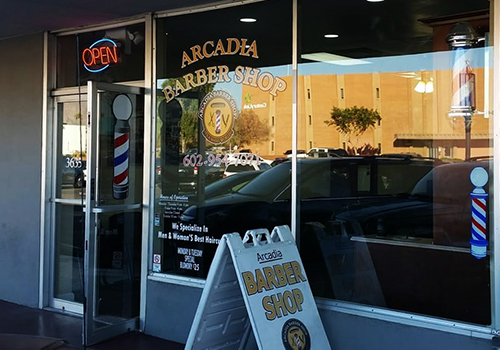 Unparalleled Services for Every Style and Preference
At Arcadia Barber Shop, we understand that each client has unique grooming preferences and desired styles. That's why our team of skilled barbers offers a wide range of services to cater to every individual's needs. From classic haircuts to beard trims, hot towel shaves, and modern styles, our barbers have the expertise to deliver exceptional results.
Our Services Include:
1. Haircuts: Our experienced barbers are skilled in a variety of cutting techniques to provide you with the perfect haircut that suits your style and personality.
2. Beard Trims: Whether you're looking for a neat trim or a full beard grooming, our barbers will sculpt and shape your beard to perfection.
3. Hot Towel Shaves: Indulge in the luxury of a traditional hot towel shave, leaving your skin smooth and refreshed.
4. Styling and Maintenance: Our barbers will guide you through the process of selecting the right products and techniques to maintain your desired style.
Convenience and Accessibility for Glendale Residents
Located in the heart of Glendale, Arcadia Barber Shop offers convenience and accessibility to residents of Glendale and its surrounding cities. And with our prime location and extended hours of operation, we're committed to accommodating your busy schedule, ensuring that you can always find the time to look your best.
Why Glendale, AZ Chooses Arcadia Barber Shop
1. Skilled Barbers: Our team at Arcadia Barber Shop consists of highly skilled barbers who possess a wealth of experience in the art of men's haircuts. With their meticulous attention to detail and passion for their craft, you can trust that you are in the hands of experts who will deliver excellent results.
2. Exceptional Customer Service: At Arcadia Barber Shop, we prioritize customer satisfaction above all else. From the moment you walk through our doors, you will experience the warm and friendly atmosphere we have cultivated. Our barbers also take the time to listen to your grooming preferences, offering personalized advice and recommendations to meet your unique needs.
3. Comfortable Ambiance: We believe that the barber shop experience should be more than just a haircut; it should be an opportunity to relax and unwind. Our thoughtfully designed space provides a comfortable ambiance where you can escape the hustle and bustle of everyday life and enjoy a moment of tranquility.
4. Commitment to Cleanliness and Hygiene: We take cleanliness and hygiene seriously at Arcadia Barber Shop. All our tools and equipment are thoroughly sanitized, ensuring a safe and hygienic environment for every client. Your health and well-being are our top priority.
Visit Arcadia Barber Shop Today – Where Your Grooming Needs Are Our Priority
So whether you're a Glendale local or a neighboring city resident searching for a premium grooming experience, Arcadia Barber Shop is the place for you. Our comprehensive range of services, skilled barbers, exceptional customer service, and comfortable ambiance set us apart as the top choice for men's haircuts in Glendale, AZ. Simply step into our shop today, and let us enhance your grooming experience to new heights.